Guil's back with Advice from the Architect.
This is part 2 of a 5-part series on how to properly design a functional horse farm. We'll talk planning, design, construction, fencing, and infrastructure.
Today we'll talk fencing.
The three most important points I want to highlight are:
avoiding sharp corners,
it must be well positioned,
find all the loose nails, wire, etc.
Trust me, if you skip a step, your horse will find it. To avoid injury, as much as possible, create a fence without jagged edges. Any hard corners can be made blunt, and safer. It is imperative to make sure you find every single dropped nail or piece of wire. Again, your horse will find it!
The fence positioning on the farm is important for aesthetics and logistics. In part one we talked about the aesthetic reasoning for keeping a healthy distance between the fence-line and your roads. Also, the corners of the paddock or pastures should be curved, at around a 30' radius. If for some reason we can't create a curve, we can use 16' boards to create 45-degree angles.
At Archifence, when we install a fence, we go in knowing the horse is our real client, and the type of horse you have determines the type of fence you need.
For example, a breeding farm will be much different than a hobby farm. Yearlings need more space to run, very fit and energetic horses may need a smaller turnout to control exercise, while the mature older horse is content in smaller enclosures.
There are several types of fencing that is best for a horse farm:
2×4 non-climb wire with a top board,
v-mesh wire with a top board,
3-5 board fence without any wire,
vinyl plank,
vinyl tape, and
electric.
The no-climb wire is a good all-around choice for many farms. While the v-mesh is slightly more expensive, it is one of the safest materials. The close weave spacing prevents hooves and legs from getting caught. Both wire fencing options help to keep predators out. The bottom of the fence needs to be 2" above the ground in all places, and never laying over the ground nor too far above the ground. This way, you can weed-eat under the wire more easily!
Board fencing is a lovely option also. We like to use creosote boards which helps with the longevity of the fence, and also because it is less palatable to the horse. The number of boards in your fence, depends on the type of horses you have. The younger the horses, the more boards you need.
Vinyl fencing is a great option for durability, safety, and beauty. Vinyl tape is virtually indestructible!
The most affordable type of fencing can be electrical. The number of posts you'll need varies by material and terrain, and greatly affects the cost.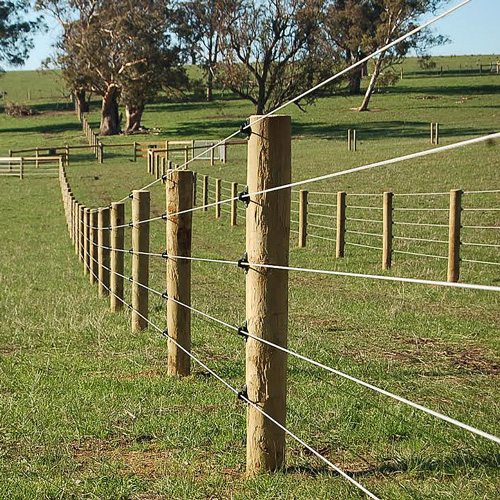 There a many forms of electrical fence materials on the market today. The 3 most common types you will see are:
High tensile wire. It is best to use 5 strands of wire but has poor visibility because it is very thin. The posts can be placed up to 24' apart, which is cost effective.
Electrical tape. This is a very visible material. The best application is for a small area because it sags easily. It is commonly used in temporary fencing situations. Even though you'll need 3 strands to do it right, the tape is usually the least expensive option. However, the posts must be no more than 8' apart, which will drive the cost up.
Parachute cord, or rope, made by ElectroBraid is my preferred option. The braided wire with filament inlay, is very visible with its girth being about the size of your pinky finger. My favorite feature of this product is the elasticity of it when put under pressure, from either weather or the inevitable impact from an animal. Another plus is that the posts can be placed up to 40' apart!
I realize the subject of an electric fence is sometimes daunting, but if it is carefully introduced to your horse, I believe it is very safe. First lead the horse inside of the paddock, then walk the horse throughout pen, and your horse will smell and sense the electric without even touching it. This is also where the importance of the gate hinge and swing comes in. Eventually your horse will zap itself, and he will be totally respectful of the fence after that.
Paddocks, round pens, or small turn-outs are always needed on any farm. Whether you need to feed separately, wean a foal, quarantine, or exercise, a smaller pen is a must have.
Gate location and swing is also crucial to the logistics and operation of the farm. All pens and paddocks need to have a gate wide enough to bring in equipment. Your round pen will need to be leveled, your stalls will need fresh dirt, and your paddocks and fields will need to be mowed and raked.
Gate swing is something that is often overlooked! A helpful tip is to have your gate hinges on the left when facing the entrance to the paddock. Since most people lead their horse on the right side, your horse has to patiently wait, facing the fence, while you open the gate.
Last but not least, regarding gate placement, is to not install it in a low spot on your fence line. Over time, the ground will get worn away and this helps lessen the headache of filling it back in.
Now, certainly there are exceptions and variations on any of the above information, but I am giving you very valid points to consider when designing your fencing project.